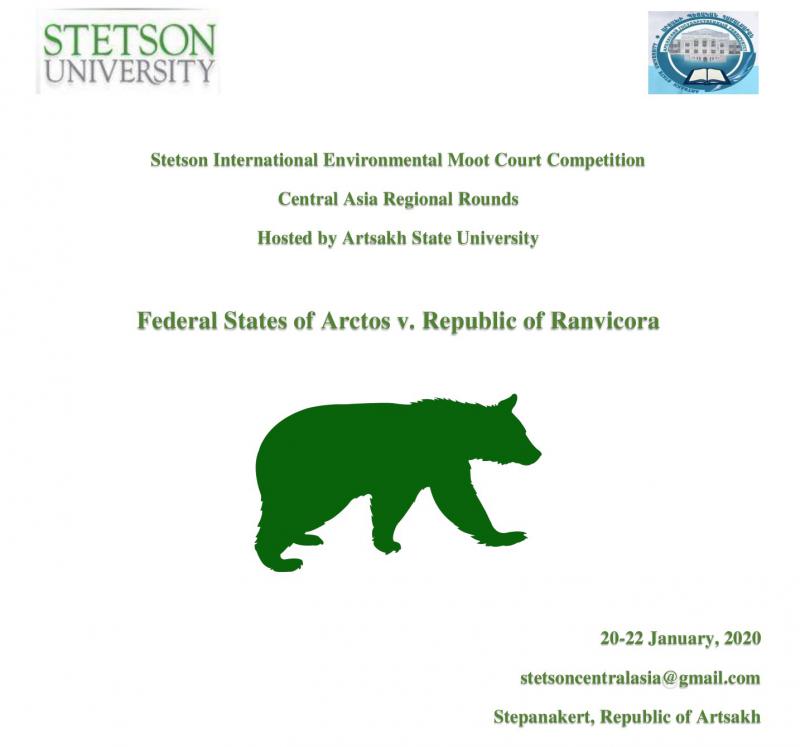 Artsakh State University ("ASU") is proud to have been selected to host the highly-esteemed 24th Annual Stetson International Environmental Moot Court Competition ("Stetson Competition") for its Central Asian Regional Rounds ("CARR").
The mission of the Stetson Competition is straightforward: to foster the development of young leaders who will have the ability to promote environmentally sustainable decision-making.
It is with this noble mission in mind that Stetson University and Artsakh State University welcome law students from throughout Central Asia to the Republic of Artsakh to compete in this distinguished interscholastic program in which they will litigate legal environmental issues that cross national borders.
The Stetson Competition is the most prestigious international environmental law moot court tournament focusing on global environmental challenges. Since 1996, law students from universities all over the globe have participated in the competition. National and regional rounds are held around the world, and the teams that advance out of those rounds will be invited to participate in the International Finals. (More information on the Stetson Competition can be found at https://www.stetson.edu/law/international/iemcc/.)
Artsakh State University invites law schools from all over Central Asia to participate in the CARR which will be held at Artsakh State University in Stepanakert, Republic of Artsakh on January 20-22, 2020.
In order to qualify for the Stetson International Finals, participants must compete in regional competitions. Teams from Central Asian law schools must thus participate in the CARR before advancing to the International Finals, which will be held in Gulfport, Florida on April 2-4, 2020.
The CARR is a great opportunity for law students to meet and compete with other universities in the Central Asian region. Interested participants may send an e-mail to the organizing committee at stetsoncentralasia@gmail.com.
Registration Information
Qualified Universities
Any university from a Central Asian state may participate in the CARR. A university from a CARR member state cannot advance to the International Finals without participating in the CARR.
Number of Teams
A university may register up to two (2) teams. If a university sends two teams, one team must submit an Applicant memorial while the other team must submit a Respondent memorial. A university sending only one team can choose either an Applicant or Respondent memorial.
Team Members
A team typically consists of two or three persons, each of whom satisfies the criteria listed below. While the IEMCC Rules allow the involvement of up to five (5) team members in the CARR, teams that advance to the International Finals will be restricted to no more than three team members. Every team member must be a student of the school represented.
Team Member Criteria
No team member may hold a law degree. Each team member must be enrolled in a full-time or part-time Juris Doctor or equivalent program in the law school they represent.
Registration
The deadline for registration is on November 9, 2019, 5:00 pm (Stepanakert time). Registration information must be entered in the online registration form: https://docs.google.com/forms/d/e/1FAIpQLScZF5ATB5h0FuxPwK3vEyP8czvUue--m51peNNRd7aI32burw/viewform. Individual ID pictures of team members must be sent via email (stetsoncentralasia@gmail.com).
A confirmation e-mail will be sent to the teams upon filling out of the online Registration Form and receipt of the e-mail with the necessary attachments.
Memorial Numbers and Submission
The Record of the 2019-2020 Stetson CARR can be found on the official website of the competition: https://www.stetson.edu/law/international/iemcc/media/2019_2020_Stetson_IEMCC_Record.pdf .
Memorials submitted should indicate only the team number assigned to it by CARR (not the school name). Team numbers will be assigned upon submission of the registration form.
Additional information on submission of memorials will be provided upon registration. The Rules of the Stetson International Finals can be found through the following link:
https://www.stetson.edu/law/international/iemcc/media/2019_2020_Stetson_IEMCC_Rules.pdf .
Law schools interested in participating in the CARR may send an e-mail to the organizing committee at stetsoncentralasia@gmail.com. For more updates on the regional round, stay tuned through our Facebook page: https://www.facebook.com/pg/stetsoncentralasia/reviews/?ref=page_internal