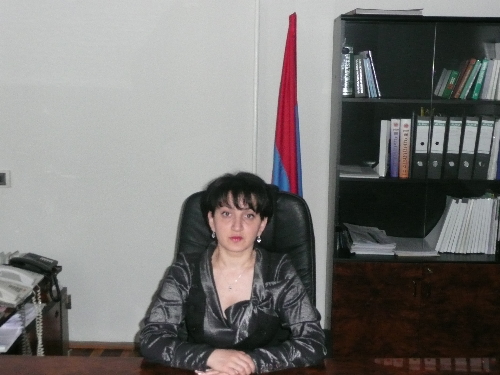 Rector
ArSU executive body, Rector, undertakes the current governing in ArSU. In the range of his jurisdiction and according to ArSU Charter Rector is the supreme ruling body and is responsible for the results of all activities undertaken in ArSU.
According to the RNK Legislation and ArSU Charter Rector is elected by ArSU Board, in the way of open rivalry, for five years and by secret ballot.
Without attorney Rector represents ArSU interests in relations with the state, state bodies, different institutions, citizens, abroad, international organizations, signs agreements, makes orders, gives indications, which are obligatory for ArSU staff members (this all is undertaken according to the RNK Legislation, decisions of founder and attorney state body).
Within the range of its jurisdiction ArSU Rector controls ArSU academic, scientific, economic, financial, international activities, organizes the activities of ArSU Academic Council, structural subdivisions, convokes sessions of ArSU Academic Council, makes annual reports at ArSU Board and provides the realization of decisions made by ArSU Board and Academic Council.
According to the laws RNK and the Charter of University, the Rector of ArSU within his jurisdiction …
1. Operates educational, scientific, production, economic, financial, international and other activity of University.
2. Organizes the work of the Scientific Council and structural divisions of the University ensuring their harmonious functioning.

Minasyan Manush
Date of Birth
1973, 22 of April
Place of Birth

Republic of Nagorno - Karabakh, town Martuni

Education

1995 -1998 Adonts Scientific Research Institute of correspondence section of the Postgraduate Study,
1990 -1995 Yerevan Institute of National Economy,
1980 -1990 Secondary School, graduated with gold medal
Job Experience
1.December, 2013 received the rank of associate professor.
2. In August 14, 2013 Manush Minasyan elected the rector of Artsakh State University by a council of ArSU.
3.October 2007 worked as the head of National Statistical Service of RNK.
4.2002, Defended the master's dissertation on a subject "Strategy of Economic Reforms in RNK", and received doctor's degree in the field of economy,
5.2002, has worked pluralistically in Artsakh State University.
6. January, 2005 the Deputy Head of the State Tax Service position.
7. May, 2000 worked in RNK State Tax Department as the head of "Calculation of Finance", "Control over the trade and service", "Centralized controls" sections, and as the head of department "Coordination of Tax inspectorates".
8. Worked in the branch of "Armagrobank" of RNK, region Martuni, first as an economist, then as a leading expert and chief accountant.
Awards
In 2013, for the book "Nagorno-Karabakh Tax System", was awarded the State Prize named after Yeghishe.
Scientific Researches
Manush Minasyan is the author of several monographs and research articles.
Marital Status
Married, has a boy.
Tel. (+374 47) 94 04 91
E-mail: This e-mail address is being protected from spambots. You need JavaScript enabled to view it