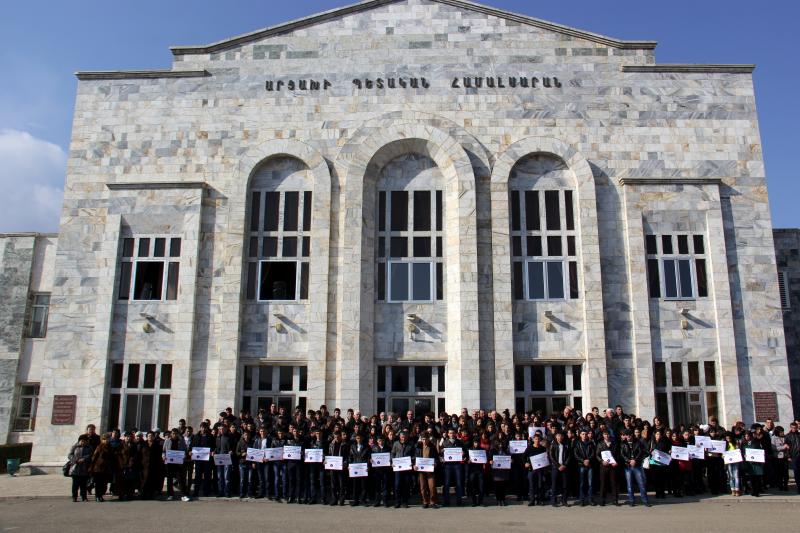 On January 27 the action in memory of the victims of genocide of the Jewish and Armenian people and the requirement of restoration of historical justice took place at the main building of ArSU.
Teachers and students of ArSU became participants of the action.
According to the Vice rector for work with students, graduates and to public relations V. Yaramishyan, this action precedes the program of the actions devoted to 100 – year anniversary of genocide of Armenians in the Ottoman Empire. «The date of an action on January 27, in the International day of memory of the victims of the Holocaust, wasn't casual. We shared the pain of the Jewish people, as the Armenian people were the first who suffered from the genocide in the XX century which took away 1.5 million lives», - the Vice rector noted.
The chairman of student's board generalized the fair requirement of the advanced youth. «Together with mourning for 1.5 million victims of genocide, today we have to demand compensation of huge losses and the territories», - A. Mnatsakanyan told.
The dean of Pedagogical faculty A. Mkhitaryan together with appeals for recognition and compensation of losses, remembered the events when the movement about the fair requirement of our people began. «Then, in 1965 very few people heard about the term «genocide», but it was impossible to be silent about it anymore. Then, thanks to teachers – patriots, the underground movement of youth for recognition of genocide began», - she added.
The action came to the end with performance of S. Khanyan in which he urged youth to remain faithful to national ideas and traditions.