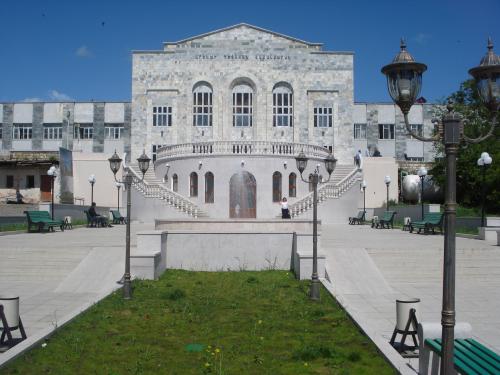 ARTSAKH STATE UNIVERSITY
A Brief Historical Overview

The Artsakh State University (ArSU) from the moment of the creation takes a special place not only in structure of the higher education and science of Nagorno-Karabakh to this day, but also in cultural, socially – political life of the country. Nowadays ArSU is the large scientific and cultural center of the republic.
The university was created in 1969 in the city of Stepanakert. At the time of creation the university was called " the Stepanakert branch of the Baku teacher training institute by V.Lenin" and had two chairs: language and literature and mathematics training on which was provided on Armenian, Azerbaijani, and in a consequence, in Russian languages.
In 1973 the higher education institution got the independent status and was renamed into the "Stepanakert teacher training college".
In the II half 80-s., from the moment of emergence of a new stage of national fight of Armenians of Artsakh, the university became the scientific center of public fight. The student's performances organized in February, 1988 with the requirement of reunion of Artsakh with Mother - Armenia developed into national ideology. During this period studies at Stepanakert state teacher training college were temporarily suspended, the Armenian and Russian offices of university in November of the same year were transferred to RA in the Vanadzor to continue study at local teacher training college.
On December 7, 1988 after an awful earthquake in Armenia, teachers and students of higher education institution were compelled to return to Stepanakert, as the Stepanakert office of Vanadzor teacher training college. The office had 4 faculties, with the chairs and all necessary divisions for the organization of educational process worked.
In October, 1992 in the middle of Artsakh liberating fight, the government of the Republic of Armenia adopted the resolution on merger of Stepanakert office of Vanadzor teacher training college with Stepanakert office of the Yerevan Architectural University, the joint new higher education institution received the name - Artsakh State University (ArSU).
In days of independence of NKR the university showed unprecedented rates of development. In 2008-2009 academic year according to the Bologna declaration of June 19, 1999 the higher education institution passed to the credit education system providing system of academic degrees of 3 levels – a bachelor degree, a magistracy, postgraduate study. Educational process is carried out on internal and correspondence offices.
Nowadays the university has 3 educational cases and one building of administration, 8 faculties, 23 chairs in which about 350 teachers, among them 3 doctors of science, 53 candidates of science, 21 professors, 58 associate professors work. On the basis of contracts at university the invited highly qualified specialists from RA and Russian Federation teach. Periodically at university the international scientific and student's conferences on the most various subjects are held. Festive events, anniversaries of outstanding scientists and art, thematic evenings, festivals are organized. During the summer period of students invite to rest in camp of a military patriotic, sports, scientific, entertaining orientation.